1/15/19
Just added a new category to our shop - "Gently Used" gifts for you! Shop a little and save a lot here! From our CoveBear Attic to you or a gift recipient ASAP!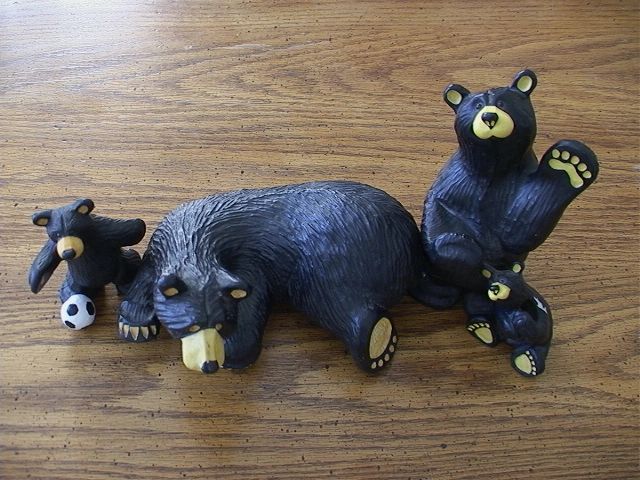 1/1/2019
Happy New Year to you! Starting a new year here in our production studio is always exciting and challenging at the same time. This is that time of year when we make decisions about upcoming projects and releases and when we think about offering new products and vacationing older ones.
COMING IN SPRING 2019 - ANIMAL PAWPRINT WALL PLAQUES: These were always extremely popular but we had to put them on vacation due to time and effort dedicated to our DVD division. We have had many queries about them and so we will once again offer them in the spring. These are handmade of Plaster of Paris, they were difficult to pour on location and create the designs, and very difficult to manufacture by hand, one at a time, and each double hand-stained with an added protective coating. These carry Plaster of Paris fragility, so they are not appropriate for young children. Each will have a hook on the back to hang on the wall, perfect for an upscale cabin feel. We will once again offer several different ones: a large adult black bear front paw, a large cougar front and back paw plaque, fox, single cougar, rear paw of sub-adult black bear, mother wolf and baby prints side by side, and very young black bear pawprints. All plaque pawprints are positive not indented, so that you can see the fur and claws clearly. We will announce their completion in Spring - estimated release date is April. (Double adult cougar shown here)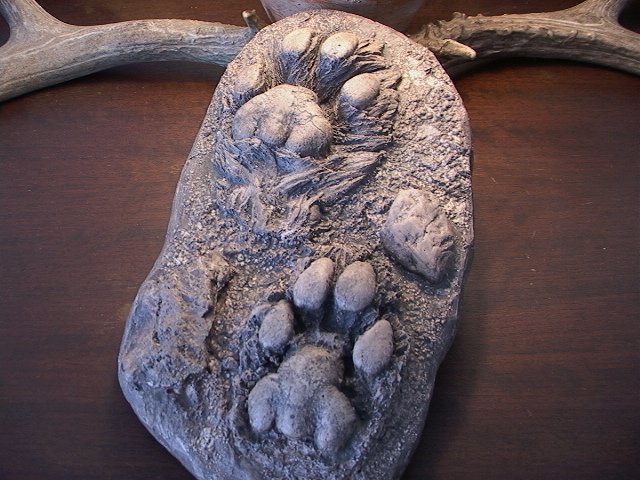 COMING IN SUMMER 2019 (if not sooner): DVD "WATERBIRDS OF THE SOUTHEASTERN STATES" This 1+hour program shares fantastic video and narration of bird that prefer wet places. These are birds that migrate and well as enjoy a permanent residency in the South, but are also found in many other parts of the country. They include swimmers such as duck, moorhen, goose, grebe, anhinga and cormorant; aggressive fishers such as bald eagle and osprey; divers such as brown pelican, migrating white pelican, and gull; and waders such as great blue heron, little blue heron, Louisiana heron, green-backed heron, yellow-crowned night heron, black-crowned night heron, American egret, snowy egret, cattle egret, and endangered Florida sandhill crane; and some favorite shorebirds. This will be a truly fascinating program with a spectacular view of several rookeries with up-close shots of babies in the nest! Why hit the road when you can see these beautiful birds on our program from the comfort of your favorite armchair? Estimated release date is June.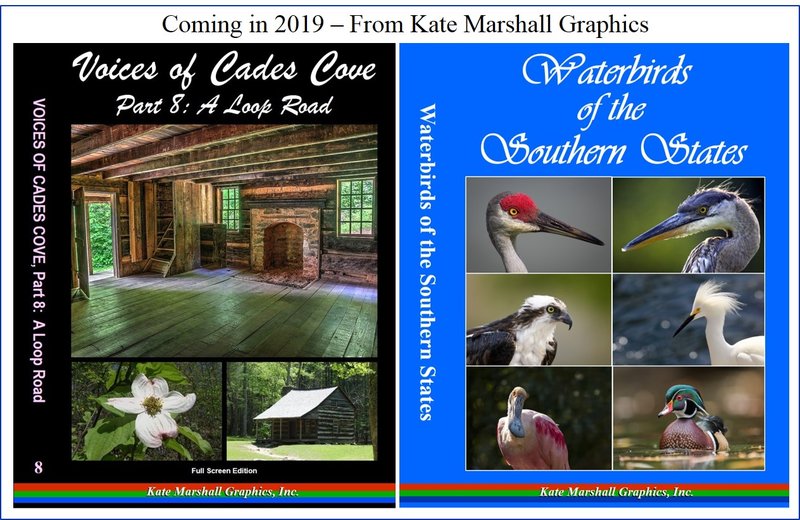 COMING IN SUMMER 2019: DVD "VOICES OF CADES COVE, PART 8: A LOOP ROAD" (title is tentative) This 2-hour program will pick up where Part 7 left off along the Loop Road, Cades Cove, in Great Smoky Mountains National Park. Part 8 will include the story of the Isaac LeQuire family, a look at the history of the Tipton-Oliver cabin, the Gourley (Muster) Field and Gourley Pond, Rowan's Creek, Witt Shields, the Carter Shields cabin and the Civil War story of George Washington "Carter" Shields and more history in that part of the Cove, plus the White Oak Sink. In post-production now. Estimated release date is July or August. (There may be one more in the series, not sure yet.)